The detailed work required to take an evaluation through the design stage, agreement on parameters such as population and sample size, the research itself and then the delivery of a high-quality analysis and report is core business for Community Works. We also prepare targeted literature reviews, learning processes and participatory impact assessment activities to generate insights and knowledge to enable organisations to reflect on their experience and improve their work.
BUILD PLANS FOR THE FUTURE BASED ON ASSETS, GAPS, OPPORTUNITIES AND COMMUNITY.

Documenting and formalising the Uniting GriefWork model
Uniting GriefWork is a free service offered to people living in Victoria who have been bereaved by the work-related death of a loved one. This program has been structured as a companioning service model to support individual grief and was developed by the Creative Ministries Network (CMN), a charitable Uniting agency.
Improving Organisational Effectiveness
Community Works offers training workshops on project design and planning, project management, monitoring and impact assessment. We are sometimes asked by participants to provide additional sessions, popular choices being strategic planning, fundraising and scaling up.
Support provided by the Eritrean Community to African Communities in Melbourne
In 2014 Community Works, was invited by an important and well known representative of the Eritrean Community in Australia (ECA), to conduct an independent evaluation of the work of the ECA and to draw some conclusions and findings for future organizational planning.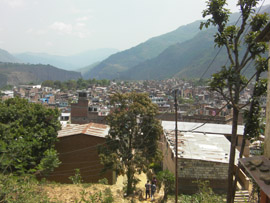 Program monitoring and evaluation in the Western Region of Nepal
The Livelihood Education Development Society (LEADS) in Nepal manages a mental health and development program in partnership with BasicNeeds. The program focuses on improving access to community mental health services in two districts, Baglung and Myagdi, in the Western Region of the country.