Community mental health services for flood-affected communities in Pakistan
Community mental health services for flood-affected communities in Pakistan
BasicNeeds managed a project for organisations working with disaster-affected communities in Pakistan seeking to provide mental health services. The first stage was a training program for 31 participants held in Karachi. The premise was to select participants who would have to organisational support and capacity to implement an action plan on community mental health in the villages in which they operate. They could draw on advice and support from BasicNeeds and its local partner HANDS during the process, which spanned six months. Participants also came back together for advanced training and to share their experiences at the end of this period.
The statistics on the floods make sobering reading. During the 2011 rains that affected mainly Sindh Province, over 2 million people were affected with 750,000 living in temporary shelters because 400,000 homes were completely destroyed. The course participants were experienced practitioners in these situations and brought their own knowledge to the first training sessions, which ran for ten days including a visit to flood-affected communities.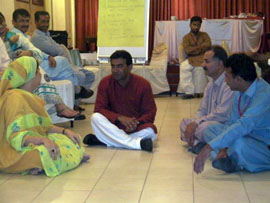 The program operated through a partnership between BasicNeeds and HANDS, a major Pakistani NGO. The training team comes from BasicNeeds, for which Steve Fisher of Community Works is team leader.